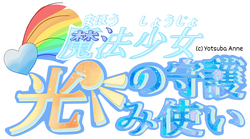 Guardian Angels Of The Light「光の守護み使い」 is the fourth and final season of the Guardian Angels Of The Sky series. The season was formerly called The Final Sky Pretty Cure and was told as a future season of the Pretty Cure franchise.
Guardian Angels of the Light focuses around the Guardian Angels fighting the eternal darkness, that has been threatening the earth for the past three years. The Angels of the Light is also the final arc of the Guardian Angels Of The Sky series. Like the season's predecessors, Angels Of The Light includes funny and sometimes serious conversations that aren't necessarily conntected with the story of the season. In addition, the theme of slice-of-life (eg. family reunions) was added to the season's themes.

Guardian Angels Of The Light is the successor of Guardian Angels Of The Sound, as well as the predecessor to Guardian Angels: The Unofficial 5th Season. The season shares their main themes with the series itself, which are colors, jewels and the sky.
Story
Unbelievable! Catastrophe has returned once more! Shocked, the girls make them ready for the true final fight. Remembering how it went the first time, they are happy they have some support this time. However, Catastrophe hides behind a new generation of shadow people until his wounds from the past fight are healed. Now, they girls still have some time to get stronger together as a team and as single fighters. Giving up is not an option...!
Episodes
Main article: The Final Sky Pretty Cure Episodes
Cast
Main article: List of Voice Actors
Merchandise
Main article: The Final Sky Pretty Cure Merchandise
Music
Movies