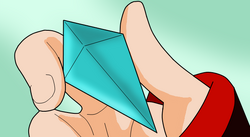 Rainbow Tears (レインボー涙, Reinbō Namida?, also called colored jewels by Scarlet and the others) are the items, the main characters of Guardian Angels Of The Sky have to collect to gain their Heaven Crystals. They were first mentioned in episode 9. After the Guardian Angel collected all of the sacred Tears, the Heaven Crystals appear out of their power. The power of the Tears are gathered inside of the Rainbow Pact. Later in Guardian Angels Of The Stars the Tears give Momozaki Rubellit and Itou Amethyst the power to transform into Guardian Angels.
List of Appearances
Gallery
Ad blocker interference detected!
Wikia is a free-to-use site that makes money from advertising. We have a modified experience for viewers using ad blockers

Wikia is not accessible if you've made further modifications. Remove the custom ad blocker rule(s) and the page will load as expected.